Welcome to the Yours, Mine, and Ours Wiki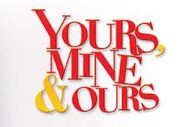 High school sweethearts, Frank Beardsley and Helen North are renuited when Frank and his family of eight children move back to his hometown of New London, Connecticut and get married.
Frank's eight children dislikes Helen's dysfunctional family of 10 children. The new family move into a lighthouse as the now 18 children dislike each other because of the way the two different families' live and then they work together to break their parents' up by doing the things that bothers time the most - like Frank not liking the idea of no rules and Helen having no rules or having their kids live like military brats.